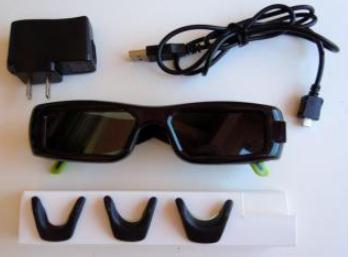 Universal Home/Pro 3D LCD Shutter Glasses
ModelN
Description:
Glasses are compatible with Samsung 2010 Model LED and Plasma 3DTV¡¯s, Mitsubishi 3DC 1000 adapter kits , Some Sony 3DTV¡¯s and all modes of 3DTV Corp Universal Glasses Gen2 Emitter.

Compatible with Samsung 3DTV sets and Mitsubishi 3D Starter kits.
Superior image -no ghosting, no tinting.
Lightweight,comfortable, USB Recharger and 3 Nosepieces included
Unique Polarity Reversal Switch-essential for many uses
Switch frequency:50hz ~ 144hz
200 hours working time(batteries included)
.